Frequently Asked Questions
What is Giftsoc?
Giftsoc is a website/web app where family members (and other groups) can exchange gifts online privately. It also provides a great place to share a gift registry with invited guests.
exchange gifts with...
your family
parents
in-laws
extended family
friends
just the 2 of you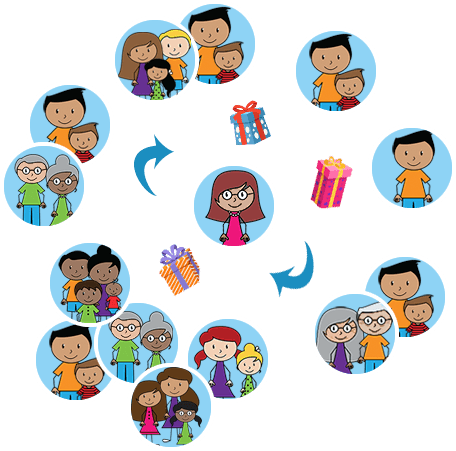 What is an Event?
An event is a gift exchange or gift registry to share gift ideas or wishes. You can set this up and invite others to join, or someone you know can set it up and invite you to join. To start an event, go home
or to your events page
and
start an event
Gift Exchange

A gift exchange is an event where everyone invited shares wishes with everyone else in the group. Each event guest has their own event "soc" where they put the wishes they want to share with other guests of the event. Works well for Christmas, Hanukkah, Valentine's Day, and other gift giving holidays.

Gift Registry

A gift registry is an event where there is only one gift recipient. Only the gift recipient has an event "soc" where they share wishes with other guests of the event. Works well for birthdays, showers, and many other gift-giving celebrations.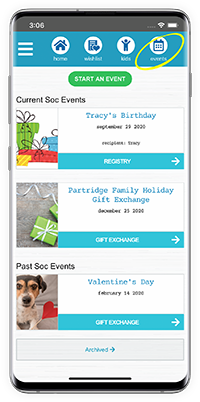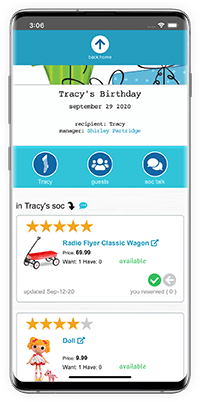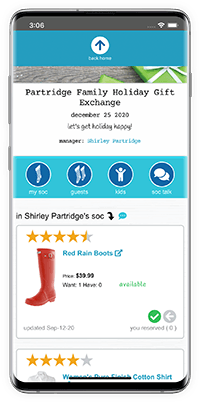 What is a Wishlist?
A wish list is a place to keep all of the items you would like to receive someday. Click the wishlist icon
to manage your wishlist. Click the kids icon
to manage a child or dependent's wishlist.
What is an Event Soc?
Inside an event soc are wishes you choose to share to guests of an event you have joined.
Things to know about events and event socs...
Private

Only invited guests can join.

Multiple events

Holiday gift exchange with family members in your household.
Holiday gift exchange with extended family (one for your family and one for your in-laws).
Sharing Valentine wish lists with a spouse or partner.
A birthday registry for your son or daughter.

One wish. Multiple event socs.

Share one wish with multiple events. This is ideal if you want a particular wish to be shown as unavailable to all guests of all events where you are sharing the same wish.

Wishes are private (or not if you choose)

Wishes are kept private until you choose to put them in an event soc and share them with the guests of that event, but never to the public.
Ways to Wish!
Quick Add

Add a wish by browsing to yours or a dependent's wishlist

and then

add wish

Mobile Share-a-Wish

A super

convenient

feature which lets you add a web page or shopping link directly to your wishlist from your mobile phone by

email

or

text

. Just browse your favorite website store or shopping app. When you find something you like, share it right to your wishlist!

Find out more and get started

Add a Wish to an Event Soc

Find events on the home page

or your events page

When viewing your own soc or your dependent's from a gift exchange event, you can

add a wish

directly to the soc.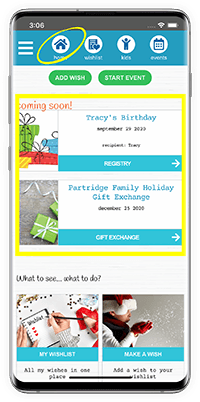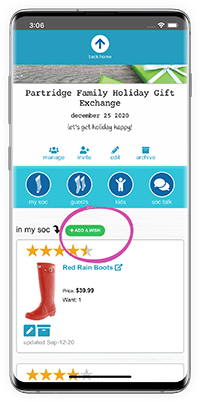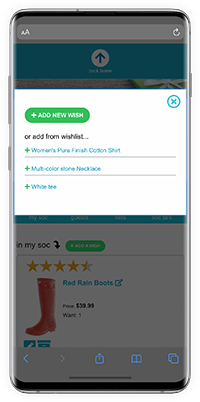 What's in a Wish?
All the standard stuff...

Name of your wish (required)
Ranking: How bad do you want this wish? (1-just kinda, 5-really really want it! Defaults to 1 star.)
Price (optional)
Quantity (defaults to 1)
Additional info (optional)
Image (scroll to choose)

Web address: After adding, click to pull info from that website right into the form.

Who's wishlist? Choose yourself or a dependent.

Who will see it? Choose one or more events, or choose none to keep it private.
A Soc is a term coined to represent the traditional Holiday "sock" or Christmas stocking, and the "social" nature of getting together in a fun gift-giving environment.